Double Glazing Perth
Design a modern home and live comfortably all year round with Double Glazing
EcoSmart Designs helps you achieve a stylish, modern and more energy efficient home with the design and installation of double glazing windows and doors.
Modern European Design
Achieve a 6-Star+ Energy Rating
Up to 20 Year Manufacturer Warranty
Is Double Glazing worth it?
First step is to think about all the things that annoy you with single glazing windows; poor insulation, the sound of cars driving past, condensation, and uncomfortable temperatures.
Now think about all the must-haves your home needs to have: cooler temps in summer, stay warm in winter, pay less on energy bills, and absolute peace and quiet. The cost of double glazing in Perth doesn't seem so bad anymore does it?
At Eco Smart Designs, we supply and install a range of beautifully designed European double glazed windows and doors with thermally broken aluminium frames, that are arguably Perth's most stylish and energy efficient windows and doors.
Our mission is to ensure you live comfortably all year round, without having to compromise on style or design.
Planning a new home with double glazing or replacing old windows?
Planning and designing your home is tiring and frustrating as it is, let alone having to think about windows and doors. So, let us simplify this process for you.
New Builds
The process of getting double glazing generally begins with reviewing your home plans — size of home, number and size of windows and doors, and style.
Existing Homes
Getting double glazing windows is generally an easier decision — to replace old windows that no longer function well — and how many need replacing.
Explore our range of Aluminium Double Glazed Windows & Doors Perth
We supply and install a range of window styles to suit your needs.
Allow for more natural light to flow through your home
Thermally efficient and elegant in design, EcoSmart Designs thermally broken, double glazed aluminium windows allow for more natural light to flow through your home, without compromising on comfort and style. With added thermal insulation, you can enjoy larger spec windows while maintaining comfortable temperatures all year round.
*Available in many different colours, shades and styles, including marine finish for costal properties.
Connect your interior living spaces with the outdoors
Our doors combine the latest innovations, to keep your home comfortable and secure, whatever the weather. Manufactured with a high-grade aluminium, there is a vast range of striking panels, designs and styles to help you create a stunning entry statement.
Available in many different colours, shades and styles, including marine finish for coastal properties.
What are thermally broken aluminium frames and why are they better?
It's important to remember that double glazing relies on all parts of the window system, including the glass and frame to be effective. Thermally broken aluminium frames are among the highest performing frames available due to a thermal break in the framing structure, which effectively reduces the transfer of heat and cold from outside and inside. This allows you to maintain a more comfortable living space throughout your entire house all year round.
Let's compare the different glazing options available to you
EcoSmart Designs works with premium materials that give you a luxury finish
At EcoSmart Designs, we work with certified, industry leading suppliers to give you that luxury finish that lasts the lifetime of your home. We specialise in Thermally Broken Double Glazing windows and doors that add European style and elegance to your home.
No matter what design and look you want to achieve for your home, whether retrofitting or new build, EcoSmart Designs can give you the premium finish you are looking for.
Our Guarantee & Warranty
Enjoy peace of mind with our guarantee on all workmanship and lasting 10-20 year warranty on all our windows and doors. We'll manage the whole process and work with your builders to ensure a high quality finish.
Installation
Here's how we manage the whole process after your free design consultation
1
Help you finalise your design requirements
We'll sit down with you to finalise the details of your design to ensure you're happy with the solution, before sending it off to our manufacturers for engineered drawings.
2
Review and confirm supplier drawings
You'll receive a copy of engineered drawings to confirm that everything is correct and aligns your specifications, before going into production. This is your opportunity to make any last and final changes.
3
We'll contact your builder
Before manufacturing starts, we'll get in touch with your builder to accommodate their needs and make sure the installation aligns with the home build process.
4
Arrange for installation and oversee the whole project
For new builds, we'll liaise with either yourself or your builder, arrange an installation time, and manage the whole process from start to finish to ensure a high quality finish.
5
Conduct a final inspection to make sure you're happy
We'll arrange a time that works for you or your builder, to go through a final inspection and make sure you're happy with the final result.
How much does double glazing cost?
No two homes are the same, this is why we always recommend getting in touch for a custom solution tailored to your specific needs.
Depending on the home, the cost of double glazing in Perth, WA will differ based on:
Window frame material
Window style
Type of glazing used
Number and size of windows
Testimonials
Hear from our customers
Despite full afternoon sun, the double glazed windows make my home so much cooler. Beautiful windows, look amazing, great quality, they were easy to match with the existing features. Highly recommended.
Our new Aluminium door is excellent - we're delighted with this and the friendly and professional service we received from Ecosmart
Stunning, contemporary window and door frames. Great customer service, staff are very helpful and go out of their way to ensure customer satisfaction. Highly recommend.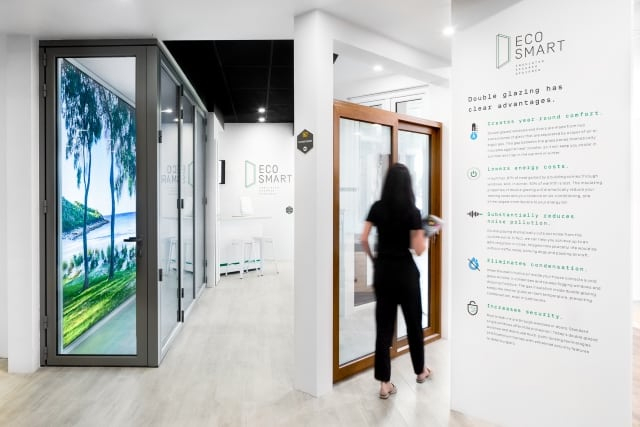 Already have your home design plans?
Visit our showroom displays and get a free design consultation
By starting with a free consultation and showroom walkthrough, you can get up close and personal with all the different types of windows & doors, which will make the whole design process easier on you.
We'll review your design plans
Discuss your goals and how you want your home to look & feel
[BONUS] Free on-site home measure
Provide recommendations and a free quote
Frequently asked questions
What is double glazing and how does it work?
Double glazed windows and doors are made from two panes of glass that are separated by a layer of air or gas and then sealed. The use of two panes of glass dramatically reduces noise and heat transmission.
The use of a gas, most often argon, is preferable between the layers of glass as it is considered to be a superior insulator than those with just a sealed pocket of air. For optimal thermal performance, double glazing should have a space of 12 to 16mm between the panes.
In a standard single glazed window, both heat and noise are easily transferred. In summer, sunlight heats up your house and in winter, heat escapes from inside your home to the outside. You pay more for heating and cooling costs and all year-round, noise can easily pass through the window.
Why use double glazed windows and doors?
Double glazed windows and doors help improve the energy efficiency of your home and make it a more comfortable living space. Up to 87% of your home's heating energy can be gained and up to 40% can be lost through windows and doors. The performance of double glazing reduces energy consumption and costs, and can reduce the required size of an air conditioning system by 30%.
Although double glazing costs more, they eventually pay for themselves over time and continue to save you as much as 25 percent on your energy usage and bills. Other benefits include:
Added security
Increase the resale value of your property
Eliminates condensation
Reduces outside noise
How much noise does double glazing reduce?
Standard double glazing (uPVC) reduces outside noise by up to 77%.
Thermally broken aluminium double glazed reduces outside noise by 88%.